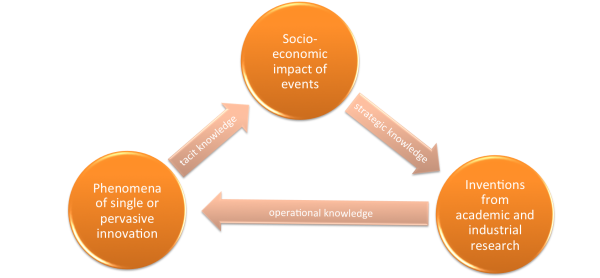 Context
Thanks to the more and new opportunities arising from scientific and technological revolutions, the increased international competition and the contemporary interdependence of economic and social issues, the classic elements that characterize the wealth of nations and the competitive advantage of businesses lose importance without a key element: the information.

Aim
However, the old problem of knowledge is not solved even in contemporary society. The problem can be summed up in the expression: "the shift from information to knowledge and from knowledge to action".

Typology
Today the flow of information is wide as ever. There is a lot of information now available: information of different nature, structured or unstructured, computable or not, in any field of knowledge. The information may come from different channels, interactive, multimedia, or one-dimensional. Information can be oriented toward generalist or specialist communication. Information can be open access or restricted, free or onerous.

Structure
The phases of knowledge management are:
Diagnosis
Interpretation
Multidimensional actions
Adaptation


Context
Situations that belong to:
natural environments (ecosystemic or evolutionary);
social contexts (retroactive or epidemic);
technological contexts (emerging or implied).

Aim
Need to handle situations that may lead to ungovernable cascade effects, non-insurable damages and lost opportunities resulting from irreversible choices.

Typology
Events that may have multiple outcomes; events that cannot be determined in a rigid manner or that may vary over time because of variables not known at the time of event start.

Structure
The activities of applied research are:
Modeling: analysis, product design, process optimisation.
Implementation: rapid prototyping, software development, industrial applications of materials.
Policy development: decision algorithms, simulation, data infrastructures.


Context
The use of research results, financed by public authorities, for socio-economic purposes is a fundamental aim of a societal impact of knowledge. Moreover, valorisation may increase the job satisfaction of researchers in Universities and stimulate entrepreneurship among university students and post-docs. A support to research valorisation is often needed in private research centres and R&D divisions of industry, especially for frontiers research.

Aim
An effective valorisation process requires to deal with knowledge issues related to:
multiple and alternative choices about what research results are to be valorised and how;
implementation decisions in terms of societal involvement and end users acceptance.

Typology
There are several kind of valorisation:
service contracts for University and research centers;
jointly drawn-up program with industrial companies and laboratories;
consultancy for knowledge-bases spinoff activities.

Structure
The activities of research valorisation are organised as follows:
Analysis: measures, formulations, trials about the valorisation feasibility of specific research ideas or results.
Design: solutions for Intellectual Property Rights, Support to public and private funding, drafting of EU and international projects, negotiation of contracts and research allowances.
Implementation: Project management, Administration of patents, Exploitation of licenses, Assistance to the technology transfer, Support to marketing and internationalization of research inventions.


Context
The large amount of available information, the increasing number of people with a higher education worldwide and the evolution of communications make the world a great place for contamination of ideas, cross-fertilization and development of innovative solutions for the business affairs and the challenges of contemporary society. Today, the opportunity for social and economic players is to develop what they need, not only with high costs and internally, but also resorting to external resources.

Aim
The difficulty is to make an efficient matching of innovation demand and supply of innovation, as well as to foster the dialogue between innovators and markets.

Typology
The resources useful for innovation are:
conceptual and symbolic
organisational
technological
human
financial

Structure
Activities of innovation and brokerage are divided into:
Assessment: analysis of the internal environment, identifying risks from change, strategic intelligence, field analysis, scenarios development.
Implementation: finding of public and private financing, consulting for mergers and acquisitions, investment assistance, outsourcing and internalization of human resources, technological solutions, development of complementary know-how, participation and organization of brokerage events in various European and non-European countries as well as online brokerage actions through platforms and data integration services.
Enhancement: training, management of the value chain, support to cluster or aggregation activities, maintenance of the introduced innovative solutions.